General Store in Walker, WV
Crossroads General Store is your complete general store, service station and gun shop, offering a huge number of products and services! Our selection includes brand-name guns and ammunition, gun safes, gasoline, food, gifts, hunting boots and footwear, local and imported wine, Amish furniture, and more. Be sure and come to us "for the hard-to-find gear that you're looking for!"
Your Local Convenience Store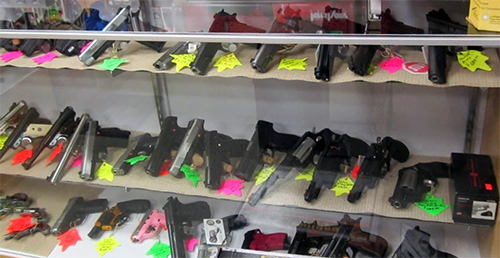 In the old days, the local general store was your destination for anything you needed—whether that was food, fuel, hunting gear or something else altogether. Crossroads General Store embodies this idea of a one-stop-shop, offering everything our local customers need to get on with their daily lives. We're proud to offer just about everything at our general store servicing Walker, WV, from groceries and gifts, to hunting supplies and fishing tackle and even authentic Amish woodwork! If we don't carry it, chances are, it doesn't exist! And, if you're having trouble finding something, our helpful staff will help you track it down.
As the most convenient convenience store and gun shop near Walker, WV, we're also your destination for fuel. Visitors to the area stop by as they're passing through to fuel up and stock up on provisions, and local customers make it a point to visit us frequently for all their needs. We take pride in being able to send out customers on their way with a smile on their face. We hope you'll stop by and see what we have to offer and take advantage of the excellent service we're prepared to provide you with.
Our family-owned and –operated convenience store has proudly served the local community since 1996!
In addition to our physical store, we also have a convenient online store for you to shop at home.
We carry a full range of hunting, fishing and camping items, as well as general outdoor necessities.
We are the premier Champion safe dealer in West Virginia, also carrying Fort Knox and Superior.
For purchases of furniture and safes, we offer home delivery for your convenience. Delivery usually takes 7-10 days.
We live by our slogan: "For the hard-to-find gear that you're looking for!"
Find What You Need
Whether it's food, supplies, furniture or fuel, you'll find what you need here. Stop by our gun shop and general store today and let us help you cross everything off your list.
We Look Forward to Seeing Visitors from all over Wood County, WV, Including:
Walker, WV
Parkersburg, WV
Vienna, WV
Hughes River WV
Beaverdam WV
Cherry WV
Greencastle WV
Williamstown, WV
Ravenswood, WV
Hanna, WV
Newark WV
Creston WV
Freeport WV
Brohard WV
Elizabeth, WV
Marietta, OH
Wirt County, WV
Lucile WV
Zackville WV
Sanoma WV
Newark WV